Last Updated on December 16, 2022 by Hooria Batool
Photographers create various visual images, whether they are for commercial or artistic purposes, using their expertise and professional tools. In most cases, photographers' work is based on a brief, which is given to them by clients or employers. Professional and personal fulfillment can be found in a career in photography, but it typically requires natural ability and years of training. Here are six tips for improving your earning potential as a photographer, including the average salary of a photographer and the salary by location.
Photographers take pictures. But what do they do?
Photography is the art of capturing and preserving various moments in time by using skills, creativity, and technology. Photographers can be classified in a variety of ways depending on the type of subject they photograph.
Photographers working for commercial and industrial companies are typically required to travel to a particular location in order to photograph a number of types of subjects such as merchandise, landscapes, and buildings. Depending on the client's needs, the resulting photographs may be used in a variety of ways. A few photographers work in the following ways:
Photographs of buildings, landscapes and events are taken from above by aerial photographers using airplanes, helicopters, and drones. Gyro-stabilizers may be necessary to stabilize photographs even when an aircraft is moving. For aerial photography, remote-controlled drones are usually fitted with cameras with 360-degree angles.
A portrait photographer is typically hired to capture a moment in time or provide a variety of services for individual or group portraits. Artists work either in their own studios or travel to different places for various events, such as weddings, school functions, and ceremonies.
Scientific photographers take photographs to record scientific phenomena or data accurately. A very little to no photo editing is usually required in order to achieve an accurate visual representation of the subject.
Photojournalists gather photos of newsworthy people, places, and events with the help of news media outlets, such as newspapers, television stations, magazines, and journals. Video-journalists are also common in news media.
Artist photographers take photographs that can be exhibited as artworks. Artistically talented photographers require more than technical skills and talent. They also need creativity.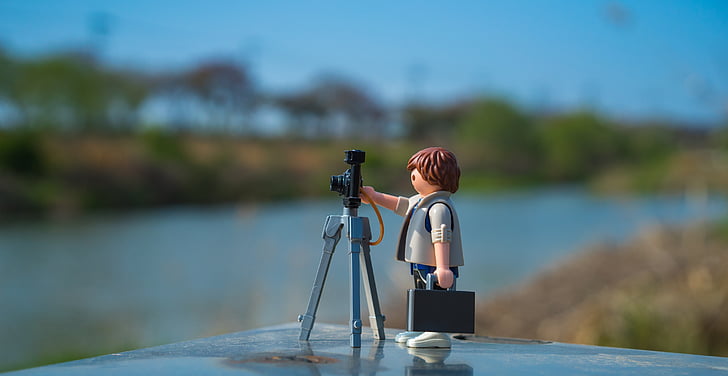 It doesn't matter what their specialty is, most photographers need to be able to:
Use marketing and advertising techniques to reach new customers.
Create a plan before taking a photograph.
Photographers manipulate the environment with professional techniques and equipment for the purpose of enhancing their photographs.
Afterward, they sell the photographs they have taken.
Some use post-processing and enhancement software.
You should always keep your portfolio updated so that new clients will be convinced of your abilities.
Average salary
There are several factors that affect photographers' salaries, including type of photography, nature of the employer, work experience, and geographic location. For photographers who specialize in seasonal events, their earnings can also vary based on the time of year. Photographers can expect to earn an average salary of $17.13 per hour in the United States, although the average salary can be updated on Indeed. Some photographers can earn salaries ranging from $7.25 to $41.55.
What is the impact of education levels on salaries?
Degrees do lead to higher salaries, but how much more money can you earn with one? Our goal was to compare Photographer salaries based on education level.
The average monthly salary of a Photographer is 37,700 PKR when the education level is High School. Certificates and diplomas pay 51% more than high school diplomas, 57,100 PKR per month for someone with a certificate or diploma.
Bachelor's Degree holders earn an average salary of 85,500 PKR per month, 50% more than those with certificates and diplomas.
Photographers' tips for increasing their earnings:
To earn more as a photographer, it is typically necessary to improve your skills both professionally (to take higher-quality photos) and strategically (to attract more clients who will pay more). Enhancing your skills may allow you to demand a higher salary if you are hired by a company. To find out how to increase your salary as a photographer, follow these tips:
Freelancing is a good way to earn extra money
Stock photo sites are a good source of income
Learn how to communicate well
Get better at being a businessperson
Work in an area that isn't your specialization
Consider working part-time as an editor
Increase your freelance work
In 2028, the Bureau of Labor Statistics projects a 6 percent decline in the job market for photographers. Freelance photographers, however, can expect to see their job outlook increase by as much as 12% during that time frame. You can diversify your portfolio and find jobs that pay well when you are a freelance photographer. By working for many clients instead of just one, you will hopefully gain more experience and be hired by more individuals and corporations in need of professional photography.
Utilize websites that provide stock photography:
A great way for a photographer to earn passive income is to sell their photos to websites that specialize in stock photography. The amount of money you receive from selling your pictures on a stock photography website can range from a few cents to a dollar or more depending on what the picture sells for. It is a passive income that grows with your number of photos. Developing an investment portfolio can be difficult, but once it has reached a certain level, it will generate a steady passive income.
Become a better communicator
You work with people a lot as a photographer. Your reputation will likely be boosted and your long-term prospects for earnings will improve when you properly understand the needs and desires of your clients and suggest the right solutions. Furthermore, the ability to interact effectively with your models when taking photographs will result in better photographs, and in turn, better earnings.
Business skills can be improved
Photographers who operate their own businesses must make smart business decisions in order to maximize their earnings. The acquisition of better-paying customers is likely to result from good marketing skills and good knowledge of the local market. You will also avoid any potential legal expenses by being aware of trademark and copyright laws.
Read More: How Much Does It Cost To Build A PC? The Complete Guide
Don't limit yourself to your primary field of expertise
As part of your business plan, you should aim to expand into other areas of photography to increase your client base and income. Working solely within your niche is a great way to establish a reputation and develop long-term success. Some areas of photography overlap, such as wedding photography and newborn baby photography. While other sports photographers also use similar skills and equipment, wildlife photographers, for example, have an advantage when it comes to shooting fast-moving targets because of their expertise.
Assist with photo editing part-time:
In order to meet certain quality standards, photos need to be edited and post-processed extensively. Photographers tend to outsource their editing work to professionals as it can be a time-consuming and demanding task. Professional editors can find work through a number of websites. You can enhance both your editing skills and your photographic capabilities by working part-time as an editor for other photographers.